Donate now to support the LLIFLE projects.
Your support is critical to our success.
Since 4 Aug 2013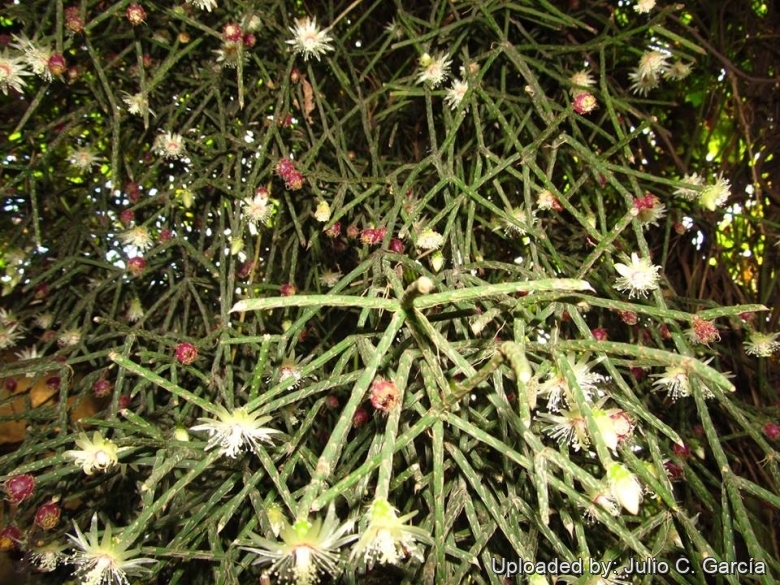 Rhipsalis pilocarpa Photo by: Julio C. García
Origin and Habitat: Southern Minas Gerais,(Rio Preto) southern Espirito Santo(Domingos Martins), north-western Rio de Janeiro, southern Sao Paulo, and eastern Parana, Brazil. Rhipsalis pilocarpa is apparently very rare known from only eight localities throughout its entire range. Its area of occupancy is estimated to be less than 2,000 km², its range is severely fragmented.
Altitude: It occurs at 500 to 900 metres above sea level.
Habitat: It grows in tropical rain forests on tree branches. Loss of habitat due to expanding agriculture and urbanization is a major threat.

Synonyms:
Description: Rhipsalis pilocarpa (Erythrorhipsalis pilocarpa) is a particularly attractive tropical epiphytic (rarely lithophyte) plant from Brazil with long hairy, cylindrical stems and white, very fragrant, flowers about 2 cm in diameter. The plant forms pendent bushes and is quite variable.
Stems: Dark green to purple, slender, cylindrical, at first erect, sometimes 40 cm long and unbranched, erect at first, in time the whole plant becoming pendent, terminated by 2 to 4 branches in a whorl, the ultimate branches 1 to 4 cm. long, 6 mm in diameter. Segments clustered, perfectly round in cross section, succulent, when withering somewhat angled. Growth determinate, terminating in composite areoles, tipped by bristles.
Areoles: Filled green, sometimes tinged with purple, somewhat woolly, with 3-10
grey, yellow to white setose hairs or bristles 4-6 mm long subtended by ovate scarious bracts.
Flowers: At ends of terminal branches, singly or in pairs, opening slowly, up to 20(-35) mm broad. Flower-tube about 2 mm. Long, reddish on the inside.Outer perianth-segments 5 or 6, triangular, rose-coloured. Inner perianth segments 10 to 15, spreading or sometimes recurved, lanceolate, acuminate, approx 10 mm long, white or cream-coloured with pinkish tips. Stamens numerous, red at bases. Pericarpels 2.5-4 mm in diameter with several areoles, bearing as many as 10 bristle-like spines, subtended by small scarious scales and surrounded by purple spots. Style exerted in the bud; stigma-lobes 4 to 8, white, spreading apart the second day after the appearance of the style and before the stamens appear.
Fruits: Spherical, up to 12 mm in diameter, wine red, very bristly.
Bibliography: Major references and further lectures
1) Brian Lamb "Letts guide to cacti of the world" Letts, 17/ott/1991
2) Sara Oldfield "Cactus and Succulent Plants: Status Survey and Conservation Action Plan" IUCN, 01/gen/1997
3) Edward Anderson "The Cactus family" Timber Press, Incorporated, 2001
4) James Cullen, Sabina G. Knees, H. Suzanne Cubey "The European Garden Flora Flowering Plants: A Manual for the Identification of Plants Cultivated in Europe, Both Out-of-Doors and Under Glass" Cambridge University Press, 11/Aug/2011
5) David R Hunt; Nigel P Taylor; Graham Charles; International Cactaceae Systematics Group. "The New Cactus Lexicon" dh books, 2006
6) Urs Eggli, Leonard E. Newton: "Etymological Dictionary of Succulent Plant Names" Springer, Berlin/Heidelberg 2010
7) N. L. Britton, J. N. Rose: "The Cactaceae. Descriptions and Illustrations of Plants of the Cactus Family." Volume 4, The Carnegie Institution of Washington, Washington 4: 7. 1923 [24 Dec 1923]
8) Clive Innes "Complete Handbook of Cacti and Succulents" Van Nostrand Reinhold Company, 01/dic/1981
9) Taylor, N.P. & Zappi, D. 2013. Rhipsalis pilocarpa. In: IUCN 2013. "IUCN Red List of Threatened Species." Version 2013.2. <www.iucnredlist.org>. Downloaded on 23 April 2014.
10) Keith Grantham, Paul Klaassen "The plantfinder's guide to cacti & other succulents" Timber Press, 18/mag/1999
11) Hans Hecht "BLV-Handbuch der Kakteen" BLV-Verlagsgesellschaft, 1982
12) Haustein, Erik. "Der Kosmos-Kakteenführer." Kosmos / Gesellschaft der Naturfreunde., Stuttgart, 1983

Rhipsalis pilocarpa
Photo by: Julio C. García
Rhipsalis pilocarpa
Photo by: Giuseppe Distefano
Cultivation and Propagation: Rhipsalis pilocarpa is among the easiest to cultivate epiphytic cacti and tolerates neglect. These forest cacti tend to be long lived.
Exposure: This plant (as with all Rhipsalis) prefers partial shade.
Watering: It requires ample summer water (more than other cacti), but allow soil to dry slightly between waterings.
Soil: These cacti won't want a normal cactus soil but will prefer to be in a soil largely composed of organic material, such as peat or sphagnum moss, This type of soil would normally be used for orchids, bromeliads or other epiphytic plants.
These forest cacti tend to be long lived.
Hardiness: Frost tender. It needs night-time temperatures no cooler than 5° C, especially in the winter.
Special requirements: These plants bloom profusely if grown in an even, high temperature, but significantly less if the temperature fluctuates between 4°C and 18°C. They drop their buds easily if they are moved. Once flower buds have formed, do not move the plant, as slight changes in environment may cause the buds to drop.
Propagation: Stem cuttings.