Donate now to support the LLIFLE projects.
Your support is critical to our success.
Since 4 Aug 2013
Schlumbergera х buckleyi Photo by: Carolina González
Origin and Habitat: Garden origin, artificial hybrid.
Ecology: The bright pink colour of the flowers and their more or less oblique attachment to the terminal stem-joints suggest that birds may play a part in the pollination of this genus. Certainly insects are attracted to the flowers by the nectar which is secreted at the base of the tube formed by the perianth-segments.
Synonyms:
Description: Schlumbergera x buckleyi originates from a cross between Schlumbergera truncata and Schlumbergera russelliana made by the horti-culturalist W. Buckley about 1850. There is no doubt that this is one of the most popular cactus of all and one of the most commonly grown indoor ornamental that puts forth vivid pink-red blossoms in winter. This is the popular 'Christmas Cactus'.
Remarks: Many illustrations supposedly of Schlumbergera truncata or of Schlumbergera russelliana depict the hybrid S. x buckleyi. Unlike S. truncata this hybrid has crenate (scolloped), not toothed stem-segments, but segments are larger than those of S. russelliana, and the flower is nearly regular. It is quite variable.
Habit: It is a much-branched, slow-growing perennial with a succulent stem composed of flattened segments, and areoles confined to the crenate margins.
Stems: Up to 50 cm or more, eventually somewhat woody at base; segments oblong or obovate, truncate, 2-4.5 cm long, 1.3-2.5 cm wide obliquely scolloped.
Flower: Sessile, regular, slightly bilaterally symmetric to almost actinomorphic, bisexual 5.5-6.5 cm long, 3-4 cm wide, usually one or two at the end of the segmented and flattened stem (Three flowers on a stem are unusual). Tube 3-4 cm long. Limb somewhat oblique, perianth-segments 12 to 15 spreading to recurving, all coloured but varying in length, 13-29 mm long, 8-11 mm wide, the outer ones (representing the sepals) being the shortest and the inner ones the longest. The perianth-segments are united at the base into a tube and the stamens are also connate. The single style up to 50 mm long protrudes beyond the numerous stamens and the flowers are protandrous, so that cross-pollination is favoured. Stamens are in 2 whorls, the outer whorl inserted on the perianth-tube and the inner whorl united at their bases to form a short tube round the style. Stigmas purplish. Filaments about 37 mm long. These organs are borne on the hypanthium which encloses the inferior ovary. Ovary + hypanthium ( pericarpel) c. 8 mm across, ribbed tannish-green to purplish.
Blooming season: Winter (in northern hemisphere it is expected to bloom between December and February, though earlier or later flowering may sometimes take place).
Notes: Schlumbergera x buckleyi has been utilized extensively for breeding of commercial Schlumbergera cultivars. Plants of S. truncata have phylloclades with dentate margins and zygomorphic flowers with yellow pollen, white filaments, and terete ovaries. Schlumbergera russelliana has small phylloclades with crenate margins and actinomorphic flowers with pink pollen, light purple filaments, and ribbed ovaries. Generally, S. x buckleyi hybrids exhibit traits that are intermediate between the two parents. Schlumbergera cultivars that are grown commercially are either S. truncata or complex S. x buckleyi hybrids. Several parent species could be used as substitutes for S. X buckleyi or members of the closely related genus Epiphyllum, whose large flowers appear laterally on the stem during the summer months.
Bibliography: Major references and further lectures
1) Neil O. Anderson "Flower Breeding and Genetics: Issues, Challenges and Opportunities for the 21st Century" Springer Science & Business Media, 01 October 2007
2) Michael Hickey, Clive King "100 Families of Flowering Plants" Cambridge University Press, 16 June 1988
3) Botanical Magazine. n.s., 823 1981
4) Hecht. BI.V Handbuch der Kakteen, 215 1982
5) Stuart Max Walters "European Garden Flora: A Manual for the Identification of Plants Cultivated in Europe, Both Out-of-Doors and Under Glass" Cambridge University Press, 27 July 1989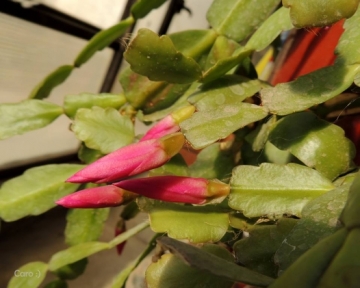 Schlumbergera х buckleyi
Photo by: Carolina González
Schlumbergera х buckleyi
Photo by: Carolina González
Cultivation and Propagation: Schlumbergera x buckleyi is a popular house plant, and is readily propagated by stem cuttings, but may be grafted on to Pereskia aculeata so as to show off the hanging branches to better advantage. Like the Poinsettia (Euphorbia pulcherrima), it takes very little effort to get your Christmas cactus to flower at the right time. It requires ample summer water and partial shade, but allow soil to dry slightly between waterings; The Christmas cactus is a short day bloomer. Remember that the shortening days of September and October are what trigger the flowering cycle. Allow also temperatures at night to drop slightly to induce flowering. During the flowering cycle, keep your Christmas cactus moist (but not soggy). After the blossoms have fallen off you should back off on the water for a couple of months. If it needs repotting, this is the time to do it. Christmas cacti won't want a normal cactus soil but will prefer to be in a soil containing sphagnum. This type of soil would normally be used for orchids, bromeliads or other epiphytic plants. The Shlumbergera drop their buds easily if they are moved. Once flower buds have formed, DO NOT MOVE the plant, as slight changes in environment may cause the buds to drop. These forest cacti tend to be long lived.
Propagation: Stem cuttings, Grafting (For grafting this plant Acanthocereus pentagonus is a good stock)