Donate now to support the LLIFLE projects.
Your support is critical to our success.
Since 4 Aug 2013
sponsored link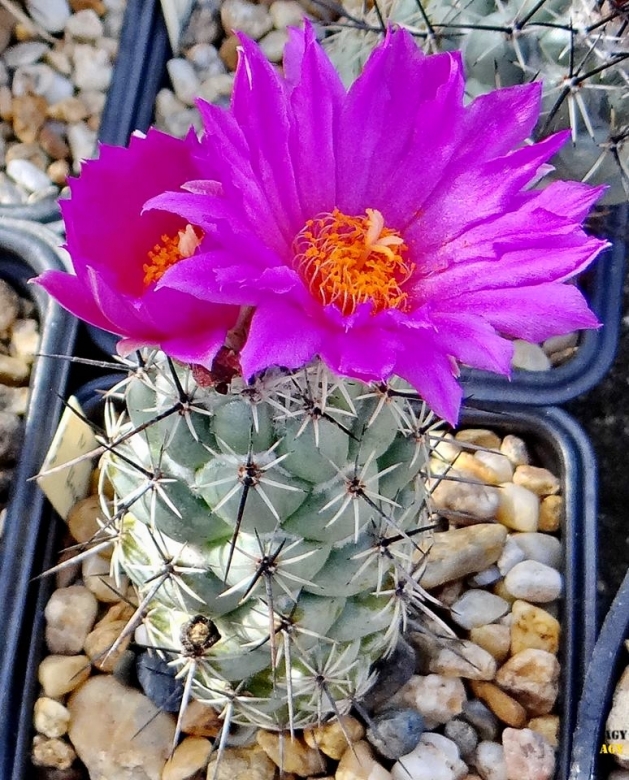 Neolloydia matehualensis Photo by: Agócs György
Origin and Habitat: Neolloydia matehualensisSN|10089]]SN|31290]] is uncommon, occurring only in a restricted area within the large range of Neolloydia conoideaSN|31290]]SN|10089]] in the Mexican state of San Luis Potosí. The type locality was stated as near Matehuala, S.L.P., Mexico.
Habitat and Ecology: The species grows in the Chihuahuan Desert where it is found on limestone hills in low shrubland. The threats to this species are unknown.
Synonyms:
Description: Neolloydia matehualensisSN|10089]]SN|31290]] is a bluish-grey cactus with somewhat elongated stems and many radial but few central spines and large pinkish-purple flowers. It is not unlike Thelocactus bicolor in general appearance but the ribs, composed of rows of soft tubercles, spiral more acutely than those of most thelocactus species.
Stems: Single to clustered, 5-24 cm high, 3-6 cm in diameter, globose to somewhat elongated with soft tubercles, yellowish-green to bluish-grey-green, usually with a white woolly crown.
Central spines: Usually 2, more or less erect black.
Radial spines: 10 white.
Flowers: Large, pinkish-purple or violet in spring, from the crown of the plant.
Taxonomic notes: Neolloydia matehualensisSN|10089]]SN|31290]] is similar to Neolloydia conoideaSN|31290]]SN|10089]] but larger with a bluish-grey stem, clumping with age. Neolloydia conoideaSN|31290]]SN|10089]] is extremely variable throughout its range and it is questioned whether N. matehualensis is, indeed, worthy of recognition at the level of species, in fact plants with the same characteristics of N. matehualensis also appear in some M. conoidea subpopulations. Taxonomic work is required to determine if this is a good species or if it should be treated as a synonym of N. conoidea.
Bibliography: Major references and further lectures
1) Fitz Maurice, B, Fitz Maurice, W.A. & Hernández, H.M. 2013. Neolloydia matehualensis. The IUCN Red List of Threatened Species. Version 2015.1. <www.iucnredlist.org>. Downloaded on 07 June 2015.
2) Edward Anderson "The Cactus family" Timber Press, Incorporated, 2001
3) James Cullen, Sabina G. Knees, H. Suzanne Cubey "The European Garden Flora Flowering Plants: A Manual for the Identification of Plants Cultivated in Europe, Both Out-of-Doors and Under Glass" Cambridge University Press, 11/Aug/2011
4) David R Hunt; Nigel P Taylor; Graham Charles; International Cactaceae Systematics Group. "The New Cactus Lexicon" dh books, 2006
5) Curt Backeberg Backebg. "The Spine" Journ. Cact. & Succ. Soc. Austral. i. 108, 112 (1948) and Journ. Cact. & Succ. Soc. Austral. i. 108 [1949]
6) "Bradleya: Yearbook of the British Cactus and Succulent Society" Volumi 3-4 page 13 The Society, 1985
7) Clive Innes "Complete Handbook of Cacti and Succulents" Van Nostrand Reinhold Company, 01 December 1981
Cultivation and Propagation: Neolloydia matehualensisSN|31290]]SN|31290]] is a delightful plant to grow, it is fairly easy to grow, not as badly affected by moisture as most other members of group. It makes great potted specimens.
Soil: Use a mineral well permeable soil with little organic matter (peat, humus). It grows in limestone areas of Texas (Big Bend area) and adjacent areas of Mexico, so will probably benefit from extra calcium in its soil.
Growth rate: It grows well, though slowly, but it possible to increase the speed of growth to some extent by providing adequate amount of water, warmth, and a liquid fertilizer diluted half strength during the active growing season, but it's susceptible to rotting if too wet. Most plants will offset readily, and clumps can be produced in a few years.
Soil: It needs a very porous, slightly acidic potting medium (add pumice, vulcanite, and perlite). Outdoors it does well on poor, rocky soils.
Exposure: It likes a sunny position also blasting sun in summer. If grown indoor provide 4 to 6 hours, or more, direct morning or afternoon sun.
Watering: It should be watered regularly in Summer allowing to dry before watering again and kept drier in Winter. It is very drought-tolerant.
Hardiness: It can be grown outdoors in frost-free climates, needs anyway to kept above 5 °C and dry in winter. But it can tolerate temperatures down to -5° C (or even less) for very short periods if very dry and ventilated. During winter month, put them in a cool luminous place and encourage them to enter winter dormancy by withholding water and fertiliser over the winter as they will etiolate, or become thin, due to lower levels of light.
Maintenance: Repot every two years. Needs lots and lots of space to grow, use large shallow container or bowl filled with very porous compost. It like pots with generous drain holes.
Pest & diseases: They are susceptible to fungal diseases if overwatered, but are not nearly as sensitive as many other cacti, especially in warm weather. If kept damp through cold periods, they will invariably suffer.
Propagation: Seeds or cuttings. The seeds may be germinated and grown in containers. Their main requirements consist of high humidity levels, free-draining soil mix, and enough water, light, and nutrition.