Donate now to support the LLIFLE projects.
Your support is critical to our success.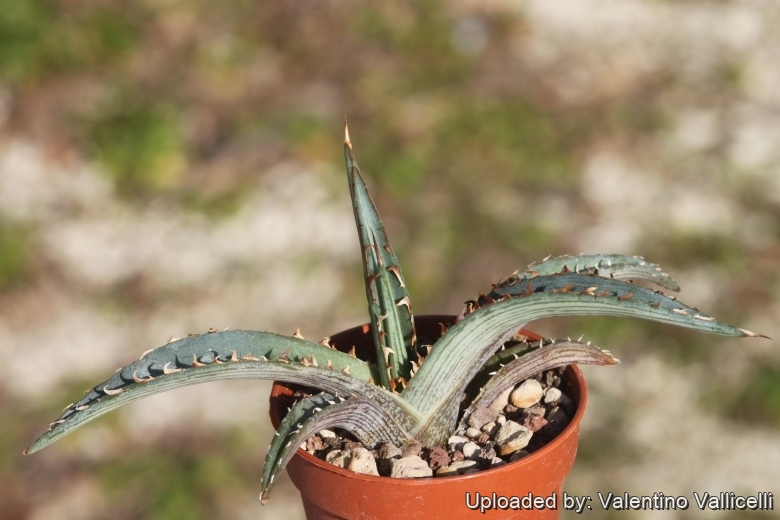 Origin and Habitat: Northeast Mexico (Hidalgo,Querétaro and San Luis Potosí)
Type Locality: Mpio. Zimapán, Cañada la Corona, 4km North of El Tathi, 2040m, Hidalgo (Mexico, Northern America)
Altitude: 1800-2350 metres above sea level.
Habitat: The species is found on limestone soils in rocky outcrops on mountain slopes, often in canyon bottoms with xerophyll scrub and in a zone intermediate between the oak and pine-oak zones.
Synonyms:
Common Names include:
ENGLISH:
Garcia-Mendoza´s Agave
SPANISH (Español):
Arcia, Shilimaya
Description: Agave garciae-mendozae named in honor of Mexican botanist Abisai Garcia-Mendoza is a medium-sized Agave, forming a neat rosette of greenish leaves with small whitish or reddish thorns along their margins.
Related species: It is closely related to Agave horrida and Agave kerchovei and looks very similar to Agave horrida ssp. perotensis.
Habit: Agave garciae-mendozae is a perennial rosette-forming plant, single or somewhat cespitose. Mature and juvenile specimens often differ markedly.
Stem: Almost stemless.
Rosettes: Openly spreading, 75-115(-130) cm high, 100-175 cm diameter with (30-)50-80 mature leaves.
Leaves: 33-78 cm long, 6-13 cm wide, lanceolate, flexible, dark green to glaucous green, margin horny, grey to dark reddish brown, easily separated, teeth variable, straight to curved, 7-14 mm long, deltoid, grey with reddish brown tip often with secondary teeth; terminal spine conic to subulate, up to 4,8 cm long, grey, grooved on upper surface, keeled under­neath, decurrent on the leaf.
Phenology: It flowers in summer (June to August), with fruits ripening in autumn (by September onwards).
Inflorescence: The inflorescence is a spicate panicle up to 5,5 m tall, peduncle reddish to glaucous green, bracts up to 23 cm long, long-deltoid, chartaceous to papery, floral bracts up to 2,6 cm long, ovate-acuminate, reddish.
Flowers: Small flowers are in groups of two or three, 2,8-3,9 cm long, light green to yellowish green and somewhat glaucous.The tube is short and widely funnelform, the tepals are longer than the tube. Filaments 3,8-4,5 cm long, anther 10-13 mm long, yellow or greenish yellow.
Fruits (capsules): Oblong or oblong-ellipsoid, (1,5-) 1,7-2 cm long, 9-11 mm wide, shortly apiculate.
Seeds: 3-4,9 mm long, 2-2,7 mm wide, semicircular, black, marginal wing 0.8-1 mm wide

Bibliography: Major references and further lectures
1) Raquel Galván Villanueva and Luis Hernández-Sandoval "Agave garciae-mendozae, a new species from central Mexico" Cactus & Succulent Journal of America, 74(4): 188 (191; figs. 1-2). 2002
2) Gentry, H. S. 1982. "Agaves of continental North America." University Arizona Press, Tucson, Arizona. 670 p.
3) Magallán, H. F. 1998. "Agavaceae from Querétaro." Licenciate Thesis. Univ. Aut. of Querétaro, Mexico. 155 p.
Cultivation and Propagation: Agave garciae-mendozae is usually cultivated outdoors in rock gardens, in cactus and succulent gardens, in Mediterranean-style landscapes, in borders, or as a specimen. It needs full sun and a very well-drained, slightly acidic, sandy or gravely soil. As an ornamental it is also grown in containers where it stays much smaller than its outdoor brethren. Keep it in a cool, frost-free area in winter and put it out on the balcony or patio in summer. It grows fairly fast in summer if provided with copious water but allows to dry thoroughly before watering again. During the winter months, one should only water enough to keep the leaves from shrivelling. It do well in full sun or a lightly shaded area.
Scenography: These striking plants are wonderful when used for accent or simply to provide some all year round foliage and often used in a pot as a patio plant, can be moved around to change the scenery or position to give more shelter.
Traditional uses: At one time a fine, long-lasting fibre, obtained from its leaves, was used for lassos, ropes and brushes. Now this activity is rarely observed and the fibre is used only by fam­ilies for their own use.
Warning: It can get large, and it is armed with needle-sharp spines.
Propagation: Seeds or suckers which often are found growing around the base of the plant. Remove the basal suckers (if available) in spring or summer and let the cuttings dry for a few days before inserting in compost.