Donate now to support the LLIFLE projects.
Your support is critical to our success.
Since 4 Aug 2013
sponsored link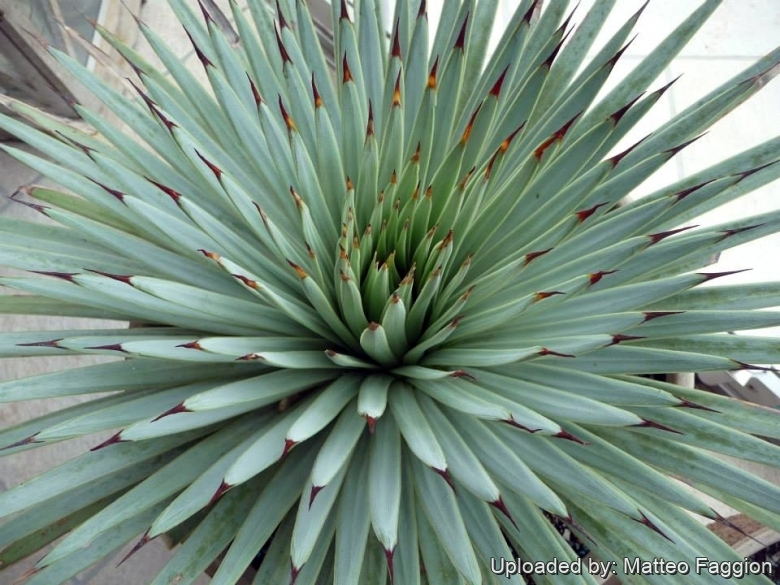 Agave rzedowskiana Photo by: Matteo Faggion
It is a small plant with narrow, spiky, pale blue leaves, similar to Agave dasylirioides.
Origin and Habitat: Agave rzedowskiana grows in disjunctS population in Sinaloa and Jalisco, in the southern regions of Sierra Madre Occidental. It might also occur in the state of Nayarit, between these two states.
Altitude range: 1600–1700 metres above sea level.
Type Locality: Mun. San Cristóbal de la Barranca, La Mesa de los Caballos, 1680 m, Jalisco.
Habitat and ecology: This species grows on igneous rocky slopes and cliffs, in oak or oak-pine forests. It is associated with Agave guadalajarana, Agave pedunculifera, Mammillaria scrippsiana and numerous succulents.
Synonyms:
Description: Agave rzedowskiana is a unique compact Agave that can reach diameters of 45 cm with a height of around 40 cm, a rather roundly shaped plant. The leaves are a greyish green and single plants could have up to 260 of them! The width of those leaves reach a maximum of only 2 cm. The size of the flowers is about 2.5 cm and the fruit reaches a length of 1.3 cm with a diameter of approximately 1 cm.
Derivation of specific name: This member of the Agavaceae family was given this name in honour of the Mexican botanist Jerzy Rzedowski (born in 1926) who has contributed a lot to the knowledge on Mexican flora.
Stem: Up to 50 cm long.
Rosette: Round, compact, 25–80 cm in diameter, 20–40 cm tall, green to bluish.
Leaves: 100–260 in each rosette, linear-triangular, straight or falcate, rigid, acuminate, striate on both surfaces, glaucous or green, 11–50 long, 7–14 mm wide, (width in the middle; leaf widest at base, to 2.1 cm); margins hyaline, finely serrated with 17–30 teeth per cm. Terminal spines 8–23 mm long, rigid, reddish brown.
Inflorescences: Flowering is typical for Agave plants belonging to the group of Littaea. They produce a 40–170 cm long , inclined to decumbent stem (occasionally sinuous) with around 50-200 flowers. Fertile portion to 10–50 cm long, located in the upper portion of the scape. Floral bracts triangular, to 42 mm long, the upper ones shorter, pale yellow, base purple, persistent, longer than the flowers.
Flowers: Funnelform, greenish purple, 20–24 mm long; pedicels less than 1 mm long. Ovary 7–9 mm long 3–4 mm in diameter, cylindric to fusiform, glabrous. Perianth tube 7–10 x 9–10 mm. Tepals incurved, ovate-elliptic, 4–8 long, 2–6 mm wide, with a tuft of microscopic hairs at apex. Filaments 22–45 mm long, inserted at the middle of the tube. Anther, rounded at both extremes, 8–12.5 mm long, yellow or brownish. Style filiform 40–51 mm long.
Blooming season: The flowering period is late winter early spring in the months of February and March. Fruits ripen in August and September.
Similar species: Agave rzedowskiana highly resembles the compact form of Agave stricta and in some way Agave petrophila and Agave dasylirioides, but occur at different altitudes. Nevertheless, differences in size, shape, leaf and flower structure are visible.
Fruits (capsules): Erect or appressed, nearly trinagular in cross section, subspheric, 7–13 mm long and 6 to 9 mm wide, the perianth occasionally persistent.
Seeds: Hemispheric, triangular in cross section, black 2.5 to 3 mm long and 1-2 mm wide.
Bibliography: Major references and further lectures
1) CactusPlaza "Agave chazaroi and Agave rzedowskiana" <http://www.cactusplaza.com/agave-chazaroi-agave-rzedowskiana> Web. 07 June 2016.
2) Pablo Carrillo-Reyes, Rito Vega Aviña, Raymundo Ramírez-Delgadillo "Agave rzedowskiana, a new species in subgenus Littaea (Agavaceae) from western Mexico" in Brittonia 55(3):240-244 · July 2003 <https://www.researchgate.net/publication/226072124_Agave_rzedowskiana_a_new_species_in_subgenus_Littaea_Agavaceae_from_western_Mexico>
3) Abisai Garcia-Mendoza, Esteban Martinez Salas "Una nueva especie de Agave, subgenero Littaea (Agavaceae) de Guerrero y Oaxaca, Mexico". In: Sida. 8: 227–230, 1998. <http://www.biodiversitylibrary.org/page/9304826#page/230/mode/1up>
Agave rzedowskiana
Photo by: Matteo Faggion
Send a photo of this plant.
The gallery now contains thousands of pictures, however it is possible to do even more. We are, of course, seeking photos of species not yet shown in the gallery but not only that, we are also looking for better pictures than those already present.
Read More...
Cultivation and Propagation: Agave rzedowskiana is a stunning specimen plant for containers or a well drained spot in the garden noted as rare in cultivation. It tend to be slow grower, but worth the effort.
Soil:* Grow them in porous soil with adequate drainage.
Exposure: They do well in full sun or a lightly shaded area.
Water requirements: Water thoroughly when soil is dry to the touch. In winter watering this plant can be done once every 1-2 months, there is no need to mist the leaves.
Hardiness: It is theoretically hardy to -3° C (or less?), particularly when dry but it is best to avoid severe freezing temperatures.
Heat Tolerance: Excellent
Propagation: Relatively easy to propagate by seeds or by suckers (if available) Remove the basal suckers in spring or summer and let the cuttings dry for a few days before inserting in compost, only problem is the logistics of getting to the suckers - sharp spines and suckers usually right up against, or underneath the mother plant.
Uses: These striking plants are wonderful when used for accent or simply to provide some all year round foliage colour and often used in a pot as a patio plant, they make an eye-catching statement and along with other evergreen plants in pots, can be moved around to change the scenery or position to give more shelter.