Donate now to support the LLIFLE projects.
Your support is critical to our success.
Since 4 Aug 2013
sponsored link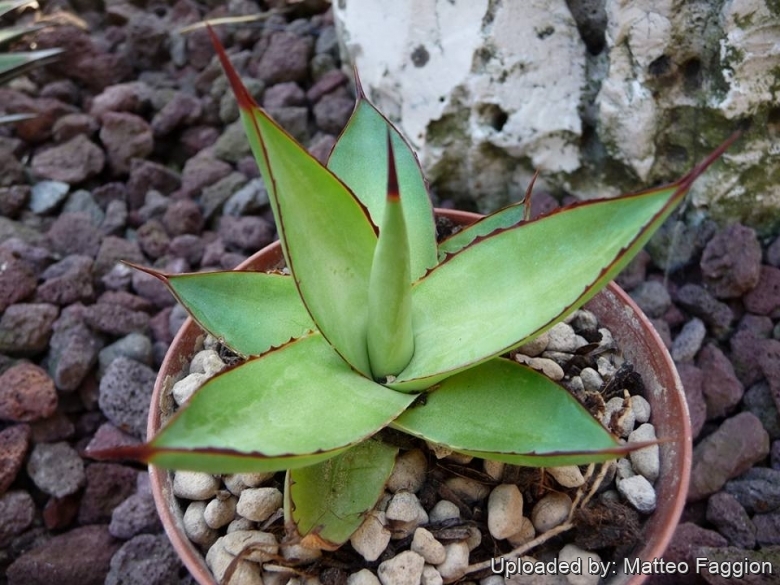 Agave х romani Photo by: Matteo Faggion
Origin and Habitat: Artificial hybrid (Garden origin).
Synonyms:
Description: Agave x romani (often misspelled as 'romanii') is supposedly to be an old agave hybrid made thanks to Belgium agave collector Jos de Vleeshouder, between Agave filifera and Agave mitis v. albidior (= Agave celsii v. albicans). Agave mitis is also used to be called Agave celsii, if you were not sufficiently confused.
Habit: Agave x romani is small sized species with open, pale green rosettes that have a nice red-brown edge to the deeply-channeled leaves. As most hybrids it is quite variable in size and in colour of foliage. There are several clones available.
Cultivars: Agave x romani cv. Shadow Dancer is a popular dwarf variegated sport from the aforementioned cross. The new leaves emerge pale green with a mid-green border and dark burgundy-red edges. Over time the leaves fade to creamy white.
Bibliography: Major references and ffurther lectures
1) Hermann Jacobsen "Handbuch der sukkulenten Pflanzen: Beschreibung und Kultur der Sukkulenten mit Ausnahme der Cactaceae", Volume 1 G. Fischer, 1954

Cultivation and Propagation: It is a relatively easy-to-grow species, though not as cold-hardy as many of the more northerly-occurring species (Winter hardy to around -3° C degrees, or less for short periods) But it is best to protect it from frost to avoid disfiguring the foliage. Suited for light shade to full sun, but better with some shade in summer. It needs a very well-drained soil. It grows fairly fast in summer if provided with copious water, but allow to dry thoroughly before watering again (the more water and fertilizer this plant gets, the faster it will grow). During the winter months, one should only water enough to keep the leaves from shrivelling.
It does great in containers. Plants cultivated outdoors are more drought tolerant, and can take some heat and some sun. Remove eventual suckers to show of the beauty and form of the individual rosette.
Propagation: By micropropagation or suckers (seldom available). Remove the basal suckers in spring or summer and let the cuttings dry for a few days before inserting in compost.. only problem is the logistics of getting to the suckers - very sharp spines and suckers usually right up against, or underneath the mother plant.
Uses: These striking plants are wonderful when used for accent or simply to provide some all year round foliage colour and often used in a pot as a patio plant, they make an eye-catching statement and along with other evergreen plants in pots, can be moved around to change the scenery or position to give more shelter.