Donate now to support the LLIFLE projects.
Your support is critical to our success.
Since 4 Aug 2013
sponsored link
Accepted Scientific Name: Dorstenia benguellensis Welw.
Trans. Linn. Soc. London 27: 71 1869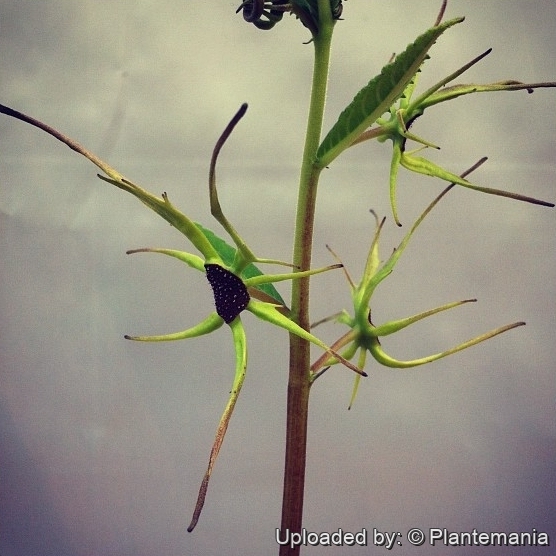 Dorstenia verdickii Photo by: © Plantemania
Origin and Habitat: Reported from Zambia (Solwei) and Zaire, Haut-Katanga (Plateau des Biano, Lubumbashi, Lukafu, Keyberg).
Synonyms:
See all synonyms of Dorstenia benguellensis
Description: Dorstenia verdickii is one of the morphological or local forms of Dorstenia benguellensis, and not readily distinguishable, if not for the geographical provenance. It is a shortly and densely hairy herb to 50 cm tall, with a swollen rhizomatous or often pachycaul (caudiciform) base. The leaves are minutely hirsute. The flower has about 8 long and rather narrow receptacle appendages, lined with marginal rows of hairs.
Stem: Erect, herbaceous, hirtellous, leafy, internodes 2.5 cm long or less.
Leaves: Subsessile, thin and papery when dry, lanceolate, more or less acuminate, apex blunt and obscurely mucronate, margin obscurely denticulate, 5-7,5 cm long, 14-16 mm wide, scaberulous, sparsely hirtellous especially on the nerves; lateral nerves 8–12 on each side, ascending. Stipules linear-tapering to linear-lanceolate, 2-3 mm long.
Inflorescences: Solitary in each leaf-axil; stalk stout, about 5 mm long; receptacle glabrescent, disc flat, orbicular, 7-8 mm in diameter, margin denticulate, bract-arms springing from below the margin, spreading in a whorl, subequal, linear, blunt, thickening and sparsely puberulous towards the apex, 14-22 mm long, about 1 mm wide.
Flowers: Male flowers 2-androus with a bluntly 2-lobed perianth; female numerous; style deeply 2-lobed.
Subspecies, varieties, forms and cultivars of plants belonging to the Dorstenia benguellensis group
Dorstenia benguellensis is extremely variable and forms a complex (The several synonyms refers to previously described species, so similar and intermingled that it is almost impossible to name them accurately without knowing where they come from.) It is not surprising to have caused so much difficulty, because you can find plants with slightly different characteristics growing cheek by jowl in many parts of the areal.
Bibliography: Major references and further lectures
1) J. Hutchinson and A. B. Rendle "Flora of Tropical Africa", Vol 6, 1916
2) Bull. Soc. Roy. Bot. Belgique 40: 26 (1901)
3) Aloe 46: 8 (2009)
Dorstenia verdickii
Photo by: © Plantemania
Send a photo of this plant.
The gallery now contains thousands of pictures, however it is possible to do even more. We are, of course, seeking photos of species not yet shown in the gallery but not only that, we are also looking for better pictures than those already present.
Read More...
Cultivation and Propagation: Dorstenia verdickii (D. benguellensis) is an excellent caudiform plant and it should make an interesting addition to a collection.
Growth rate: It grows well, and fast. Providing adequate amount of water, warmth, and fertilizer seedling starts flowering when only 5 months old, but it's susceptible to rotting if too wet.
Exposure: It needs light shade, but the caudex should be in the shade, while the leaves prefer some sun. Avoid direct blasting sun in summer. Bright light if grown indoors.
Soil: It needs a very porous potting medium (add pumice, vulcanite, and perlite). It does better in a rather acidic soil.
Waterings: During the growing season, the plants appreciate a fair amount of water but allow the soil to dry slightly between watering, making sure that they never dry out completely, but keep dry during the winter after the leaves have died back. It rot easily and do NOT like a lot of water when it has no leaves. They have to be kept in a rather high air humidity.
Fertilizer: They are fertilized once during the growing season with a balanced fertilizer diluted to ½ the strength recommended on the label.
Frost tolerance: Due to its African origin keep warm in winter, the minimum safe average temperature is 15°C, although it can go lower for short periods. It can be grown outdoors in frost-free climates, need anyway to kept above 10°C and dry in winter. It is very prone to rot in cool, wet conditions. USDA Zone 12, but does very well in containers.
Maintenance: Repot every two years. It like pots with generous drain holes.
Propagation: Seed, plants seem self fertile. Seed germinate readily at 21° C. They can also be propagated by cuttings.