Donate now to support the LLIFLE projects.
Your support is critical to our success.
Since 4 Aug 2013
Sclerocactus spinosior subs. blainei Photo by: Prof. Ilham Alakbarov
Origin and Habitat: Sclerocactus spinosior subs. blainei is a very rare cactus is confined to the western USA. In Nevada (Nye County and Lincoln County); and in the southern part of the Utah desert, in the Escalante Desert (Iron County). The population in Nye Co. is separated more than 110 km from the colony of Lincoln Co, but no intermediate plant colony are reported between this two locality. The number of wild individuals is very limited.
Type locality: Nye county.
Altitude range: S. spinosior blainei can be foundat elevations of 1,450 to 1,850 metres above sea level.
Habitat and Ecology: Great Basin shrublands. This species occurs scattered in open pinyon-juniper woodland community associated with greasewood, galleta grass and shade scale and sage brush on the south-facing slopes of a hill. Sclerocactus spinosior subs. blainei typically grows on saltier, calcareous gravels or in mottled clayey soil [Lincoln Co.] and is well camouflaged when not in bloom. In addition, this cactus's long, pale, ribbon-like spines resemble the dried leaves of galleta grass, with which it grows. Soils are. Cross-pollination is carried on by insects, mainly small solitary bees, beetles, and bee flies. Apparently unattractive to birds and rodents, the fruits dry and split open, still attached to the maternal plant. The seeds fall from the fruit and lie scattered at the base of the plant, transported only by the scouring winds and rains of the Great Basin desert. Cattle grazing was considered to be a serious threat. Cattle are known to trample small cacti such as Blaine pincushion. In addition, mining activities seemed to be a potential threat to the small populations. Perhaps the greatest concern to wildlife managers has been the threat of illegal collection of plants. Often, when a new species of cactus is described, there is great interest shown by some cactus enthusiasts in obtaining it for collections.
Synonyms:
See all synonyms of Sclerocactus spinosior
Accepted name in llifle Database:
Sclerocactus spinosior subs. blainei
(S.L.Welsh & K.H.Thorne) Hochstätter
Succulenta (Netherlands) 74(1): 43 (1995)
Synonymy: 8
Accepted name in llifle Database:
Sclerocactus spinosior
(Engelm.) D.Woodruff & L.D.Benson
Cact. Succ. J. (Los Angeles) 48(6): 131. 1976 [May-Jun 1976]
Synonymy: 6
Common Names include:
ENGLISH:
Blaines's Pincushion, Blaine Pincushion
Description: The Blaine fishhook cactus, (Sclerocactus spinosior subs. blainei), formerly known as Sclerocactus blainei, is a peculiar species with white soft, flattened and flexible central spines (1-3 are irregularly or strongly hooked, some may be strongly flattened and ribbonlike reminiscent of Sclerocactus papyracanthus). Sclerocactus blainei is very similar to, and believed to be closely related to, Sclerocactus spinosior, a species restricted to the deserts of western Utah, but the flowers are slightly larger and the lower central spine is longer. Blaine fishhook cactus, like other species in the genus, shows high variability in its spine both between populations and between younger and older plants.
Stem: 3-15 cm tall, 2-8 cm wide, green to dark green, ovoid or cylindrical(sometimes narrowly so), solitary or a few clumped together. The largest plants are round above the ground but small plants during the dry season are flat and almost completely retracted to the ground. Ribs (6-)13(-14), tubercles prominent on ribs.
Spines: Dense but not obscuring stems. Usually in clusters, with (1-)3-6(-7) central spines, terete to angled, pubescent in young and early reproductive plants. 1-3 lower central spines tan to brown, reddish, or black, irregularly or strongly hooked. Lateral spines (0-)2(-4) per areole, white, tan, red, or reddish brown, usually hooked, sometimes flattened, flexible and ribbon-like, 10-40 mm long. Upper spine, one per areole, tipped white or dark, flattened and ribbonlike, (5-)35-60(-70) long and 1.5-2.5(-3.5) mm wide.
Flowers: Bell to funnel shaped, 2-4 cm long, 1.5-3 cm in diameter. Outer perianth segments with reddish brown midstripes and violet-pink or reddish purple margins, usually oblanceolate, 15-20mm long, 6-10 mm wide, margins irregularly toothed, apex mucronate. Inner perianth segments violet-pink or reddish purple, oblanceolate to narrowly oblanceolate, 15-20 × 4-6 mm, apex minutely toothed, surrounded by several hundred bright yellow anthers. Filaments violet-pink or reddish purple. Styles minutely and sparsely papillate.
Blooming season: Its flowers open in the warm afternoon sun of spring ( Apr-May). Fruits mature as summer arrives.
Fruits: Small barrel-shaped to cylindrical 9-15 mm long, 8-13 mm wide, at the summit of the stems, amid the tangle of spines. Dry, green to pink or pale red, dehiscent along 2-4 vertical splits. Scales few, membranous.
Seeds: Large (2-2.5 × 3-4 mm), dark. Testa with rounded papillae.
Note: Blaine pincushion (Sclerocactus blainei) remained unknown to botanists until the mid 1980s. It is quite variable and has the ability to interbreed, or cross, with other populations and other species. All three populations of Sclerocactus blainei can exchange genes with each other and also with Sclerocactus pubispinus (Great Basin fishhook cactus), Sclerocactus schlesseri (Schlesser pincushion), and Sclerocactus spinosior (Desert Valley fishhook cactus). This could indicate that there are four species that are capable of hybridizing or, alternatively, that there is only one species. However all recent treatments of Sclerocactus hypothesize that the southwestern population of Sclerocactus blainei is a different species, known as Sclerocactus nyensis. Further, all include Sclerocactus schlesseri within (as a synonym of) Sclerocactus blainei, suggesting that there is not really a fundamental difference between the two. The central spine number varies, and the number of hooked spines may be as many as six, which is characteristic of Sclerocactus polyancistrus.
Subspecies, varieties, forms and cultivars of plants belonging to the Sclerocactus spinosior group
Bibliography: Major references and further lectures
1) Butterworth, C. & Porter, J.M. 2013. Sclerocactus spinosior. In: IUCN 2013. "IUCN Red List of Threatened Species." Version 2013.2. <www.iucnredlist.org>. Downloaded on 14 February 2014.
2) David Hunt, Nigel Taylor "The New Cactus Lexicon" DH Books, 2006
3) Edward Anderson "The Cactus family" Timber Press, Incorporated, 2001
4) James Cullen, Sabina G. Knees, H. Suzanne Cubey "The European Garden Flora Flowering Plants: A Manual for the Identification of Plants Cultivated in Europe, Both Out-of-Doors and Under Glass" Cambridge University Press, 11/Aug/2011
5) J. Mark Porter in: "Endangered Wildlife and Plants of the World", Volume 2 Marshall Cavendish Corporation, 2001
6) Leo J. Chance "Cacti and Succulents for Cold Climates: 274 Outstanding Species for Challenging Conditions" Timber Press, 19 June 2012
7) J. Mark Porter in: "Endangered Wildlife and Plants of the World", Volume 2 Marshall Cavendish Corporation, 2001
8) "Sclerocactus blainei" in Flora of North America @ efloras.org <http://www.efloras.org/florataxon.aspx?flora_id=1&taxon_id=242415293> FNA Vol. 4 Page 204 . web 30 January 2016
9) Stephen Ingram "Cacti, Agaves, and Yuccas of California and Nevada" Cachuma Press, 2008
Photo by: Fred & Judy White (Locality: Cedar City, Iron County, Utah)
Photo by: Cactus Art
Photo by: Fred & Judy White (Locality: Cedar City, Iron County, Utah)
Photo by: Cactus Art
Photo by: Fred & Judy White. This photo was taken from above the largest plant. 7 inch (18 cm) It has a pup around 10 o'clock.
Photo by: Cactus Art
Photo by: Fred & Judy White (Locality: Cedar City, Iron County, Utah)
Photo by: Cactus Art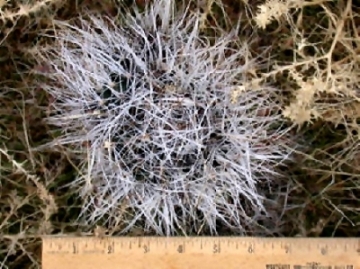 Photo by: Fred & Judy White (Locality: Cedar City, Iron County, Utah)
Photo by: Cactus Art
Sclerocactus spinosior subs. blainei
Photo by: Prof. Ilham Alakbarov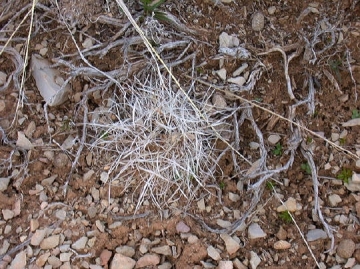 - Photo by: Fred & Judy White (Locality: Cedar City, Iron County, Utah) Notes by Fred White: This colony is composed of only a few (14) plants. I believe them to be Sclerocactus spinosior ssp. blainei. The smallest is about the size of a quarter. The largest about the size of a softball. The largest 3 or 4 rose above the ground but the rest were (essentially) flat to the ground. The white spines are all soft, flattened and flexible. There are a dozen or so thin, weak, light-brownish spines located apically most of which have hooks.
Photo by: Cactus Art
Send a photo of this plant.
The gallery now contains thousands of pictures, however it is possible to do even more. We are, of course, seeking photos of species not yet shown in the gallery but not only that, we are also looking for better pictures than those already present.
Read More...
Cultivation and Propagation: Sclerocactus blainei is very rare in cultivation, it is difficult to grow on its own roots and to propagate, but continues to be a particular prize among specialist collectors. Mature individuals easily rot and die especially after planting. The seeds germinate with extreme difficulty and a low rate of success, seedlings do not do well either, and more die each year.It is extremely xerophytic and adapted to very dry soils, but plants grafted on hardy stock (Opuntia humifusa, Echinocereus triglochidiatus etc...) are relatively easy to grow and no special skill is required, they can stay in a non heated greenhouse. (min tem -20°C). For the heated glasshouse Eriocereus jusbertii is the recommended stock. However, the grafted plants lose their natural appearance. Sclerocactus blainei is not reliably hardy in zone 5 (-20 to -28°C) but can be grown in protected microclimates, such as near the south side of a heated building.
Propagation: Seeds are extremely difficult to germinate (only 2-3 percent of seeds germinate). The germination is really difficult and if some seedling finally sprout, as they start to grows they disappear one by one. Grafting is often used to speed growth rate and to create a back-up for plants in collection.