Donate now to support the LLIFLE projects.
Your support is critical to our success.
Agave tequilana Photo by: Valentino Vallicelli
Origin and Habitat: Only known under cultivation in a very restricted region in east-central Jalisco near Arandas, in central Jalisco near Tequila, and in a few other locations in that state.
Altitude: more than 1,500 meters
Habitat: Grows in rich and sandy soils in regions that generally did not have minimum temperatures below –4°C or maximum temperatures above 36°C.
Ecology: The flowers are pollinated by a native bat (Leptonycteris nivalis) and produce several thousand seeds per plant.
Synonyms:
See all synonyms of Agave tequilana
Accepted name in llifle Database:
Agave tequilana
F.A.C.Weber
Bull. Mus. Hist. Nat. (Paris) 1902, 220.
Synonymy: 8
Common Names include:
ENGLISH:
Tequila Agave, Blue Agave, Weber Blue Agave
BULGARIAN (Български):
Синьо агаве
DUTCH (Nederlands):
Blauwe Agave
ESTONIAN (Eesti):
Tekiila-agaav
FINNISH (Suomi):
Tequila-agaave
FRENCH (Français):
Agave Tequila, Agave Bleu
HUNGARIAN (Magyar):
Kék agávé
ITALIAN (Italiano):
Agave della Tequila, Agave Blu, Agave Tequilana
JAPANESE (日本語):
テキラリュウゼツラン
KINYARWANDA (Ikinyarwanda):
Tekila sabırı
LITHUANIAN (Lietuvių):
Tekilinė agava
NORWEGIAN (Bokmål):
Blå agave
PORTUGUESE (Português):
Agave-azul
RUSSIAN (Русский):
теки́льная, Ага́ва голуба́я, Агава текильная, Агава голубая
SPANISH (Español):
Maguey, Mezcal, Agave Azul, Agave de Tequila, Mezcal azul tequilero
SWEDISH (Svenska):
Blå agave, Tequilaagave
TURKISH (Türkçe):
Tekila sabırı
UKRAINIAN (Українська):
Блакитна агава
Description: The Agave tequilana (Blue Agave) is a medium-sized species that forms a spreading succulents rosette with rather thin, rigid blue green leaves, it suckers from the base and can grow up to 2–4 metres in diameter. This species is an important economic product of Jalisco, Mexico, due to its role as the base ingredient of tequila, a popular distilled spirit. The high production of sugars, mostly in the form of fructose, in the core of the plant is its most important characteristic, making it suitable for the preparation of alcoholic beverages.
Stem: Short, thick, 30-60 cm long.
Rosette: Radiately spreading 1,2-1,8 (or more) m in diameter
Leaves: 90-120 cm long, 8-12 cm wide, lanceolate (lance-shaped ), narrow and thickened towards the base, rigidly upright held to horizontal, fleshy, spiky, fibrous, generally glaucous bluish to silver-green reddening under stress condition, sometimes cross-zoned. Margins armed straight to undulate or repand; theeth light to dark brown evenly spaced, 1-2 cm apart, teeth 3-6 mm long with slender cusps curved from low pyramidal bases, sharp end spine dark brown1-2 cm long flattened or openly grooved above.
Inflorescence: The asparagus-like stalk (quiote) is a paniculate umbel, 5-6(-10) m tall densely branched with 20–25 large diffusive dicompound umbels, each capable of producing hundreds of flowers.
Flowers: 68-75 mm long; protandric and composed of green tepals with purple tips and 6 anthers joined to filaments at the base of the tepals. Ovary 32-38 mm long inferior and divided into three compartments with a long style terminating in moist stigmas, neck short, not constricted; tepals green; tube funnelshaped, 10 mm long, lobes subequal. 25-28 mm long. Since anthesis occurs before the stigmas mature, released pollen could fertilize receptive flowers lower on the inflorescence.
Blooming season: Summer. Agave tequilanaSN|234]] is a monocarpic perennial species that sprout a flowering stalk after 5-8 years of vegetative growth signalling the end of the plant's life cycle, but container cultivated plants often flowers only when 10-25 (or even 50) years old; Sexual reproduction normally begins in February or March when the vegetative apical meristem retracts or "sinks" marking the transition from vegetative apical meristem to floral meristem. Once initiated, the inflorescence or "quiote," which is covered with bracts, undergoes a period of rapid growth (up to 5 cm per day) until reaching a height of around 5-6 m. At a height of around 4 m, lateral branches or umbels begin to form on the inflorescence; flowering proceeds from the lowest to highest umbels during the months of June and July and all stages of flower development can be observed simultaneously on a single plant. When fertilization is unsuccessful, vegetative bulbils are induced on the umbels of the inflorescence near the bracteoles from newly formed meristems.
Remarks: It is very similar to Agave tequilanaSN|234]] and is distinguishable from it only for slightly different proportions: larger leaves, thicker stems, heavier and more diffuse inflorescences with larger flowers and shorter tubes.
The occurrence of hybridization between A. tequilana and other Agave species has never been documented, although other interspecific crosses have been reported
Cytology: 2n = 60
Subspecies, varieties, forms and cultivars of plants belonging to the Agave angustifolia group
Bibliography: Major references and further lectures
2) Wikipedia contributors. "Agave tequilana" Wikipedia, The Free Encyclopedia. Wikipedia, The Free Encyclopedia, 18 Dec. 2014. Web. 31 Dec. 2014.
3) Howard Scott Gentry, "Agaves of Continental North America" University of Arizona Press, 1982
4) Urs Eggli "Illustrated Handbook of Succulent Plants: Monocotyledons: Monocotyledons" Springer Science & Business Media, 17 July 2001
5) Umberto Quattrocchi "CRC World Dictionary of Medicinal and Poisonous Plants: Common Names, Scientific Names, Eponyms, Synonyms, and Etymology" (5 Volume Set) CRC Press, 03 May 2012
6) A. T. G. Elzebroek "Guide to Cultivated Plants" CABI, 2008
7) August J. Breitung: Agave tequilana. In: The Agaves. The Cactus & Succulent Journal Yearbook, 1968, S. 45, 48.
8) Mary Irish, Gary Irish "Agaves, yuccas, and related plants. A Gardener's Guide" Timber Press, 2000
9) T. Heller "Agaven" Münster 2006.
109 Forest & Kim Starr "Agave tequilana (blue agave, tequila agave)". Plants of Hawaii. <http://www.starrenvironmental.com>. Web. 27 December 2014
10) Mohr, Gary M. Jr. (1999) "Blue Agave and Its Importance in the Tequila Industry," Ethnobotanical Leaflets: Vol. 1999: Iss. 3, Article 2.
Available at: http://opensiuc.lib.siu.edu/ebl/vol1999/iss3/2

Agave tequilana
Photo by: Valentino Vallicelli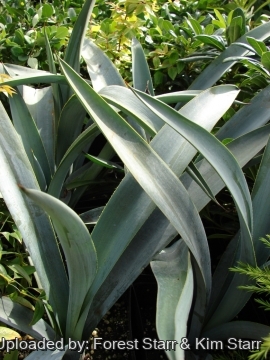 Agave tequilana
Photo by: Forest Starr & Kim Starr
Cultivation and Propagation: They are great Agaves for containers because of their small size, They need full sun to partial shade or very high interior lighting. Plants are not so drought tolerant and requires more water than most agave species. Plants should be watered and allowed to dry before watering again. Fertilize only once during the growing season with a balanced fertilizer. When grown as a houseplant, the temperature should never drop below 5° C. Not too frost tolerant, during the winter months, only water enough to keep the leaves from shrivelling.
Ground cultivated plant are tolerant to drought, and salty seaside conditions. Little if any irrigation is needed to maintain the plant once established. The sharp spine at the tip of its toothed leaves is sometime removed to protect people.
Propagation: It is is normally propagated asexually through offsets or suckers formed on rhizomes, which often are found growing around the base of the plant. Fortunately, many plantlets will form from the inflorescence, offering good opportunities for propagation.
Uses:
A) Agave tequilanaSN|234]]SN|234]] is cultivated in Mexico on several marginal and non-marginal soils for more than 200 years for the production of the distilled liquor "Tequila". Tequila is produced from the heart (piña or cabeza) of the the blue variety of Agave tequilana which is usually harvested in its eighth to twelfth year. This heart (a.k.a. Head or Pine), composed of stem and basal leaf tissue of the agave, usually weighs between 30 to 45(-90) kg and contains enough starches to produce about 5 litres of Tequila. The heart resembling a giant pineapple is stripped of its leaves near their bases, and cooked in ovens, and its raw starches are convened to sugars. Then they are macerated to remove the sap and allowed to ferment and distilled. Other Mexican beverages, such as mezcal and pulque, are also produced from blue and other agaves by different methods and are regarded as more traditional because the distilling process used for tequila was developed in Mexico only after European colonisation. Tequila is to mescal much as Chardonnay is to wine.
B) Mature agaves also provide food. The cabezas are usually pit-roasted in large numbers and eaten during fiestas. (Note: The raw flesh of many agaves is caustic and can even blister skin.)
C) The leaf fibres can be used to make rope, though they are not as strong as those of Sisal.
D) Occasionally grown as an ornamental specimen it makes a dramatic statement in the landscape and is much favoured for use in rock gardens.
E) Soap and other products are also made from the fibres and pulp.