Donate now to support the LLIFLE projects.
Your support is critical to our success.
Agave х leopoldii Photo by: © Plantemania
Synonyms:
See all synonyms of Agave x leopoldii
Accepted name in llifle Database:
Agave х leopoldii
hort. ex G.Nicholson
Gard. Chron. 1912 (ex Dict. Gard. Suppl., 82,1900)
Cultivars (1):
Common Names include:
JAPANESE (日本語):
Taki No Silaito (White Thread of Cascade)
RUSSIAN (Русский):
Агава Леопольда
Description: Agave x leopoldii is a miniature hybrid species involving Agave filiferaSN|557]]SN|10450]] (subs. filifera) and Agave filifera subs. schidigeraSN|10450]]SN|557]]. This plant has lots of fibres peeling off its short, very narrow leaves, and lots of suckers.
Rosettes: Up to 30 cm tall and wide, compact, densely covered with leaves.
Leaves: Upright narrow spine-like, light green, decorated with white markings and curling threadlike fibrous margins that peel back giving the entire plant a hairy look.
It is easy to tell what features the Agave filifera contributed to this charming hybrid.
Flowers: Not particularly showy, but at any rate interesting with dark yellow anthers atop red stamens.
Subspecies, varieties, forms and cultivars of plants belonging to the Agave filifera group
Notes: A. leopoldii was first described by G. Nicholson in 1900 and published in Garden Chronicles in 1912 it was later described as a garden hybrid between Agave filifera and Agave schidigiera (now A. filifera ssp. schidigiera) by Alwin Berger in his 1915 ''Die Agaven''.
In Japan this plant is cultivated under the name Taki no silaito which translates loosely as ''White Thread of Cascade''.
Bibliography: Major references and further lectures
1) Howard Scott Gentry "Agaves of Continental North America" University of Arizona Press, 01/Feb/2004
2) Urs Eggli "Illustrated Handbook of Succulent Plants: Monocotyledons" Springer, 2001
3) Hermann Jacobsen "A Handbook of Succulent Plants: Abromeitiella to Euphorbia" Blandford Press, 1960
4) Stuart Max Walters "European Garden Flora: A Manual for the Identification of Plants Cultivated in Europe, Both Out-of-Doors and Under Glass" Cambridge University Press, 1984
5) Breitung, A. J. (1962); "Cultivated and native Agaves in the South-western United States" (Part 19; Cact. Succ. J. (USA) 34(2): 42-45.
6) Breitung, A. J(1968): "The Agaves." Cact. Succ. J. (USA) Yearbook, Abbey Garden Press, Reseda.
7) Terraciano, A. (1885): "Primo contributo ad una monografia delle Agave." Stabil. Tipogr. Barnaba Cons di Antonio, Napoli.
8) William Davidson "The illustrated directory of house plants: a practical guide to growing over 500 plants for the home" Salamander, 01/Nov/1990
9) Margaret Martin, Peter Chapman "A gardner's guide to cacti and succulents: how to grow these fascinating plants in the home and greenhouse : featuring 150 species" Salamander Books, Limited, 198
Agave х leopoldii
Photo by: Valentino Vallicelli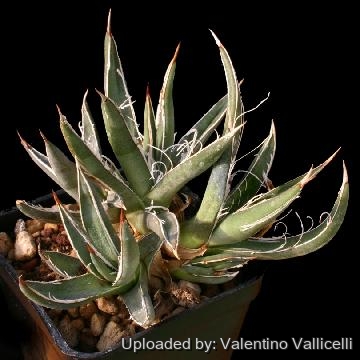 Agave х leopoldii
Photo by: Valentino Vallicelli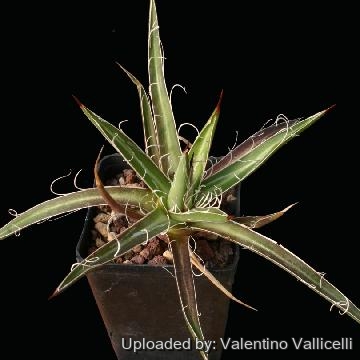 Agave x leopoldii
Photo by: Valentino Vallicelli
Send a photo of this plant.
The gallery now contains thousands of pictures, however it is possible to do even more. We are, of course, seeking photos of species not yet shown in the gallery but not only that, we are also looking for better pictures than those already present.
Read More...
Cultivation and Propagation: Leopold agave (Agave leopoldii) is often grown as a houseplant. It is an easy-to-grow plant.
Growth rate: Plants have a moderate growth rate and form clumps given the best conditions.
Soil: They are tolerant of most soils, but do best in very well-drained, sandy or gravely soil. As ornamental they are also grown in containers where they stay much smaller than their outdoor brethren. In pots they need a very porous mix soil (e.g. 2 parts peat moss to 1 part loam to 1 part of pumice).
Exposure: They do well in full sun or a lightly shaded area with afternoon shade. Plants cultivated outdoors are drought tolerant and takes blasting heat and full sun.
Repotting: Use pot with good drainage.
Watering: It grows fairly fast in summer if provided with copious water but allows to dry thoroughly before watering again. During the winter months, one should only water enough to keep the leaves from shriveling. Avoid waterlogged conditions.
Fertilization: They grows quickly if kept well nourished with a slow release fertilizer specifically formulated for cactus and succulents applied once or twice a year in the spring and summer (poor in nitrogen), including all micro nutrients and trace elements.
Hardiness: It is theoretically hardy to -10° C , particularly when dry. Keep it in a cool area in winter and put it out on the balcony or patio in summer. It is damaged from early morning overhead watering in the winter. The water froze resulting in pockmarks on the leaves.
Scenography: It is quite versatile. Because of its symmetrical form and relatively small size, this plant is very attractive when grown in pots. Plants can be grouped together or planted among boulders in a rock or cactus garden. It is great in small pots or nestled into a rock crevice.
They work well with perennials.
Traditional uses: The sap of is fermented to make a light alcoholic Mexican drink called 'pulque'. Rope, food, soap and other products are also made from the fibers and pulp.
Warning: It is armed with sharp spines.
Propagation: By suckers which often are found growing around the base of the plant, Remove the basal suckers (if available) in spring or summer and let the cuttings dry for a few days before inserting in compost or by seed.