Donate now to support the LLIFLE projects.
Your support is critical to our success.
Agave potatorum
(A form from the locality: Nativitas) This species is highly variable in form, size and colour and many varieties have been described and may be anywhere between 10 and 90 cm in diameter when fully grown up. The smaller form (called Butterfly Agave) are highly prized in Japan Most of them grow very symmetrically, staying smaller in containers.
Origin and Habitat: Mexico, occurs from southern Pueblo state down to central Oaxaca and Chiapas, and is quite variable.
Habitat and ecology: Semi-arid highlands between 1200 and 2250 metres above sea level.
Synonyms:
See all synonyms of Agave potatorum
Common Names include:
ENGLISH:
Drunkard Agave
RUSSIAN (Русский):
Агава картофелевидная
Description: Agave potatorumSN|540]]SN|540]] is a small Agave, growing solitary or slowly clumping, that forms an compact to open symmetrical succulent rosette. It is a very polymorphic species with a large range of variability from which many cultivated varieties have been derived. Rosettes may be anywhere between 10 and 90 cm in diameter when fully grown-up. Leaves may be few or many, variable in colour from green to yellowish green to nearly white glaucous grey or bluish. Generally they are ovate or short lanceolate, but very variable. Altogether, these variations illustrate that A. potatorum is a freely seeding outbreeding complex, that has been widely assorted by circumstances of habitat, changing climates over a long period of time, and man's interventions.
Derivation of specific name: The specific name "potatorum" has nothing to do with potatoes, it comes from the genitive of the Latin word "potator" meaning 'of the drinkers' in reference to the use of this plant in making alcoholic beverages.
Stem: Usually stemless or very short stemmed.
Leaves: 30 to 80 per rosette, softly fleshy but rather rigid, thickened and narrowed toward the base, ovate, oblong, or short lanceolate, but very variable in shape, size and colour. They are mostly 9-18 cm broad and 20-40 cm long and green, blue-grey to light silvery-grey. They are slightly deflexed back near the tips that terminate in a distinctive, often twisted or slightly wavy, reddish, dark brown spine up to 2,5 long. The short marginal spines are often on pronounced tubercle-like prominences often dramatically so, with distinct teats. The teeth are usually rusty or yellowish coloured 0,6 to 1,3 mm long, 0,5 to2,5 cm apart. The leaves also have noticeable showy bud-imprints.
Flowers: The long spikes may by either a raceme or a panicle and rise up to 3 to 6 m bearing light green flowers tinged with red and subtended with red bracts.
Subspecies, varieties, forms and cultivars of plants belonging to the Agave potatorum group
Notes: Agave potatorumSN|540]]SN|540]] is included in the group Hiemiflorae. As a general rule, plants in this group have relatively short lateral branches on the inflorescence and tight ball-like clusters of flowers. They typically are winter-flowering, although Agave potatorumSN|540]]SN|540]] is a little earlier than most, with a September-to-December peak flowering time.
Bibliography: Major references and further lectures
1) Howard Scott Gentry "Agaves of Continental North America" University of Arizona Press, 01/Feb/2004
2) Urs Eggli "Illustrated Handbook of Succulent Plants: Monocotyledons" Springer, 2001
3) Hermann Jacobsen "A Handbook of Succulent Plants: Abromeitiella to Euphorbia" Blandford Press, 1960
4) Enrique F. Martinez Limon "Tequila" Abbeville Press, Incorporated, 01/Oct/2004
5) Paul C. Standley, Smithsonian Institution "Trees and shrubs of Mexico" Volume 1 Smithsonian Institution, 1967
6) Berger, A. (1915): "Die Agaven. Beitrage zu einer Monographie." Gustav Fischer Verlag, Jena.
7) Breitung, A. J(1968): "The Agaves." Cact. Succ. J. (USA) Yearbook, Abbey Garden Press, Reseda.
8) Terraciano, A. (1885): "Primo contributo ad una monografia delle Agave." Stabil. Tipogr. Barnaba Cons di Antonio, Napoli.

Agave potatorum (Locality: Cameron)
Photo by: Cactus Art
Agave potatorum (Locality: Tlayaco)
Photo by: Valentino Vallicelli
Agave potatorum ((Locality: Nativitas)
Photo by: Cactus Art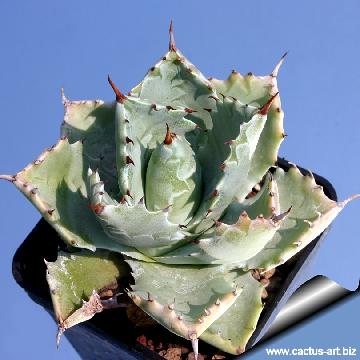 Agave potatorum ''Compact'' ( Cultivated form )
Photo by: Cactus Art
Agave potatorum (Locality: Cameron)
Photo by: Cactus Art
Agave potatorum (Locality: Tlayaco)
Photo by: Cactus Art
Plant with sinuous leaf margins and with teeth atop of projecting bumps are often called by the old name of A. verschaffeltii.
Photo by: Cactus Art
Send a photo of this plant.
The gallery now contains thousands of pictures, however it is possible to do even more. We are, of course, seeking photos of species not yet shown in the gallery but not only that, we are also looking for better pictures than those already present.
Read More...
Cultivation and Propagation: Agave potatorumSN|27883]]SN|540]] is a relatively easy-to-grow species, though not as cold-hardy as many of the more northerly-occurring species (Winter hardy to around -3° C degrees). Suited for light shade to full sun, but better with some shade in summer. It needs a very well-drained, soil. It grows fairly fast in summer if provided with copious water, but allow to dry thoroughly before watering again (the more water and fertilizer this plant gets, the faster it will grow). During the winter months, one should only water enough to keep the leaves from shrivelling.
It does great in containers or in the ground. Plants cultivated outdoors are more drought tolerant and can take some heat and full sun. Remove eventual suckers to show the beauty and form of the individual rosette.
Uses Agave potatorum is is used in Mexico for making ''pulque'' the Mexican wine. In Sonora (Mexico) the hearts (central part of the rosettes and base of leaves) are placed in subterranean ovens and the resulting fermented juice is distilled to make a a spirit called Bacanora. It is also one of the agave species authorized for the production of mescal, other species commonly used are: Agave marmorataSN|519]]SN|519]], Agave seemanniana, Agave rodacantha and Agave salmianaSN|540]]SN|27883]].
Propagation: By seeds or by suckers that are found growing around the base of the plant, however this species rarely offsets many plants after maturing,. This begins to occur when they are as young as 10 years old. They will flower (usually during the autumn) and the entire plant declines and dies. But many of the clones actually in cultivation are more prolific, and suckers are readily available. The basal suckers can be removed in spring or summer, letting the cuttings dry for a few days before inserting in compost.