Donate now to support the LLIFLE projects.
Your support is critical to our success.
Agave seemanniana Photo by: Matteo Faggion
Origin and Habitat: Guatemala (Baja Verapaz, Zacapa, Chiquimula, Jalapa, Jutiapa Solola), northern Nicaragua (type from Segovia), Costa Rica, Honduras and also in Mexico (Oaxaca, Chiapas: Colonio Cardenez to Las Cruces and along the road to Arriaga). The range of Agave seemannianaSN|554]]SN|554]] overlaps that of Opuntia decumbens but extends only as far south as Nicaragua.
Altitude: (300-)400-1550(-2200) meters above sea level.
Habitat: It grows in a wholly tropical area in dry, rocky, open or brushy slopes and arid pinelands.
Synonyms:
See all synonyms of Agave seemanniana
Accepted name in llifle Database:
Agave seemanniana
Jacobi
Abh. Schles. Ges. Vaterl. Cult., Abth. Naturwiss. (1869) 154.
Synonymy: 10
Description: Agave seemanniana is a solitary, non-suckering medium-sized agave generally recognizable in its area by its small compact rosettes with broad plane glaucous leaves, markedly narrowed at the base. It is rather variable, resulting in its redescription under several names.
Rosette: Stemless, solitary, small, with about 20 leaves that lie out flat.
Leaves: Fairly soft, broad, narrowed at the base, pale green to glaucous green, 8-15 cm wide, 30-35(-40) cm long, with small purplish or brown, soft spine 1-3(-5) mm long, 5-20 mm apart along the margins at the leaf base, and rather straight triangular teeth 2 to 4 mm wide and 20 to 30 mm long, the nearly straight intervening margin denticulate. It shows considerable variation in form and size of leaf and in leaf margins and teeth. The small population near Somoto in northern Nicaragua is remarkable for its very large teeth. Terminal spine, widened at the base and sharply decurrent, with a broad flat groove of the upper surface.
Flowers: Funnel-shaped, 47-63 mm long and yellow.
Blooming season: It flowers in winter and is seeding by late spring.
Fruits: Loculicidal capsules.
Subspecies, varieties, forms and cultivars of plants belonging to the Agave seemanniana group
Agave seemanniana

Jacobi

: has compact, small to medium-sized non-suckering rosettes. Leaves broad plane glaucousgreen, markedly narrowed at the base. It is rather variable. Distribution: Southern Mexico to northern Nicaragua.

Agave seemanniana subs. pygmaea

(Gentry) B.Ullrich

: has small rosettes rarely exceeding 30 cm in diameter and often offsetting. Distribution: Mexico, Chiapas, 45 km North of Mexico-Guatemala border along the Pan-American highway.
Bibliography: Major references and further lectures
1) Howard Scott Gentry "Agaves of Continental North America" University of Arizona Press, 01/Feb/2004
2) Urs Eggli "Illustrated Handbook of Succulent Plants: Monocotyledons" Springer, 2001
3) Hermann Jacobsen "A Handbook of Succulent Plants: Abromeitiella to Euphorbia" Blandford Press, 1960
4) Enrique F. Martinez Limon "Tequila" Abbeville Press, Incorporated, 01/Oct/2004
5) Paul C. Standley, Smithsonian Institution "Trees and shrubs of Mexico" Volume 1 Smithsonian Institution, 1967
6) Walter Erhardt, Erich Götz, Nils Bödeker, Siegmund Seybold: "Der große Zander." Eugen Ulmer KG, Stuttgart 2008, ISBN 978-3-8001-5406-7. (Ger.)
7) Christoper Brickell (Editor-in-chief): "RHS A-Z Encyclopedia of Garden Plants." Third edition. Dorling Kindersley, London 2003, ISBN 0-7513-3738-2.
8) Baker, J. G. (1877): "The genus Agave" (Part 7). Gard. Chron. (Ser. 2) 8 (185): 40-41.
9) Baker, J. G.(1892): "Agaves and arborescent Liliaceae on the Riviera." Bull. Misc. Info. Kew 61: 1-10.
10) Berger, A. (1915): "Die Agaven. Beitrage zu einer Monographie." Gustav Fischer Verlag, Jena.
11) Breitung, A. J. (1962); "Cultivated and native Agaves in the South-western United States" (Part 19; Cact. Succ. J. (USA) 34(2): 42-45.
12) Breitung, A. J(1968): "The Agaves." Cact. Succ. J. (USA) Yearbook, Abbey Garden Press, Reseda.
13) Ellemeet, J. van (1871a): "Enumeration des Agave de la collection de M. De Jonge-Van Ellemeet." Belg. Hort. 21: 115-121.
14) Ellemeet, J. van (1871b): "Eine Agaven-Sammlung." Wochenschr. Gaert. Pflanzenk. 14(35): 273-271.
15) Engelke, B. (1991): "Spotlight on round robins." Cact. Succ. J. (USA) 63(2): 58-60.
16) Finckh, H. (1897): "Agaves in New South Wales." Garden 51: 407.
17) Gentry, H. S. (1976): "Agave hunting in Guatemala." Saguaroland Bull. 30(5): 56-58.
18) Jacobi, G. A. von (1869): "Nachtraege zu dem Versuch einer systematischen Ordnung der Agaveen." Abh. Schles. Ges. Vaterl. Cult. (Abt. Naturw. Med.) "1868/69": 138-"176" (= 186).
19) Trelease, W. (1915): "The Agaveae of Guatemala." Trans. Acad. Sci. St. Louis 23(3): 129-152, pl. 6-35.
20) Moore, T. (1871): New Agaves. Gard. Chron. 31(3): 74-75.
21) Pim, B. & Seeman, B. (1869): "Dottings on the road­side in Nicaragua, Panama and Mosquito." Chapman and Hall, London.
22) Standley, P. C. & Steyermark, J. A. (1952): "Flora of Guatemala." Field Mus. Nat. Hist.Publ. (Bot. Ser.) 24(3): 432 p.
23) Terraciano, A. (1885): "Primo contributo ad una monografia delle Agave." Stabil. Tipogr. Barnaba Cons di Antonio, Napoli.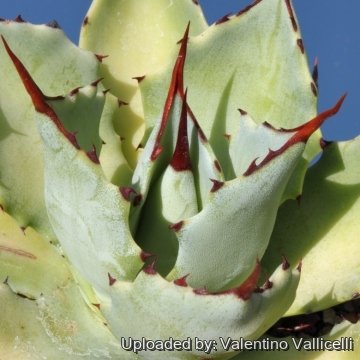 Agave seemanniana
Photo by: Valentino Vallicelli
Agave seemanniana
Photo by: Valentino Vallicelli
Agave seemanniana
Photo by: Valentino Vallicelli
Send a photo of this plant.
The gallery now contains thousands of pictures, however it is possible to do even more. We are, of course, seeking photos of species not yet shown in the gallery but not only that, we are also looking for better pictures than those already present.
Read More...
Cultivation and Propagation: Agave seemannianaSN|27883]]SN|554]] is a more tropical species that tolerate both drier conditions and an occasional light freeze, but likely it will depend on from where this wide ranging plant was collected.
Growth rate: It is a relatively rapidly growing species given the best conditions.
Exposure: They do well in full sun or a lightly shaded area with afternoon shade.
Soil: They do best in very well-drained, sandy or gravely soil. As ornamental they are also grown in containers where they stay much smaller than their outdoor brethren. In pots they need a very porous mix soil (e.g. 2 parts peat moss to 1 part loam to 1 part of pumice).
Repotting: Use pot with good drainage.
Fertilization: They grows quickly if kept well nourished with a slow release fertilizer specifically formulated for cactus and succulents applied once or twice a year (poor in nitrogen), including all micro nutrients and trace elements.
Hardiness: Though it is from the tropics, it has some frost tolerance. Keep it in a cool, frost-free area in winter and put it out on the balcony or patio in summer. It grows fairly fast in summer if provided with copious water but allows to dry thoroughly before watering again. During the winter months, one should only water enough to keep the leaves from shriveling.
Scenography: They are usually cultivated outdoors in tropical rock gardens, in cactus and succulent gardens, in borders, or as a specimen. These striking plants are wonderful when used for accent or simply to provide some all year round foliage and often used in a pot as a patio plant, can be moved around to change the scenery or position to give more shelter.
Traditional uses: Agave seemanniana is one of the agave species authorized for the production of mescal, other species commonly used are: Agave marmorataSN|519]]SN|519]], Agave potatorum, Agave rodacantha and Agave salmianaSN|554]]SN|27883]]. In Guatemala the seed pods of this species are said to be used in Jutiapa for poisoning fish, and in the same region it is stated that the young and more tender leaves are sometimes roasted and eaten.
Warning: It is armed with sharp spines.
Propagation: Seeds