Donate now to support the LLIFLE projects.
Your support is critical to our success.
Since 4 Aug 2013
sponsored link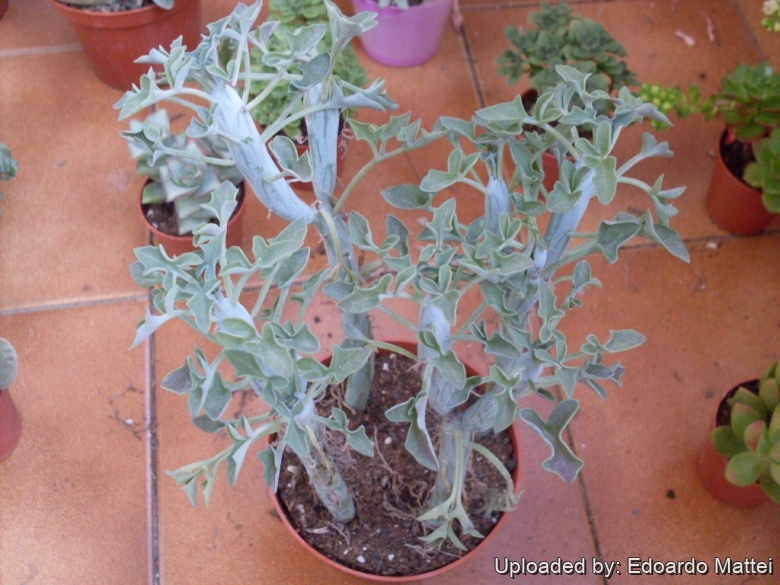 Senecio articulatus Photo by: Edoardo Mattei
Origin and Habitat: South Africa, Cape Province.
Synonyms:
See all synonyms of Senecio articulatus
Common Names include:
ENGLISH:
Candle Plant, Causage Plant, Hot Dog Cactus
SPANISH (Español):
Planta de vela
Description: Senecio articulatus is a deciduous succulent species that forms a somewhat sprawling clump 22-40 cm high by 30 cm or more wide and spreads by tubers which form an underground scaffolding, an anchoring system. The plant is leafless during part of the year.
Stem: Formed by fat, bluish grey to bluish-purple striped joints l,5-10 cm long and 1,5-2 cm in diameter that looks like green sausages about as thick as a finger. During winter each sprouts a little tufts of leaves and then they grow another segment. So from looking like a sausage with a topknot it ends up looking like a string of sausages with topknots! Each stem can reach 30-40 cm height, but much taller if shaded and overwatered. The stems store water for long periods. They are protected by a waxy coatings to retard water loss.
Roots: Fibrous shallow, but wide-spreading.
Leaves: 5-8 cm long, on petioles as long as or longer than blade, soft, fleshy, variously incised or notched and drop in dry times, new ones being produced when growth resumes.
Inflorescences: 12-20 cm tall, branched corymbs, heads tiny, rayless composed solely of disk-flowers with an unpleasant rather repugnant odour and are pollinated by beetles and flies.
Subspecies, varieties, forms and cultivars of plants belonging to the Senecio articulatus group
Bibliography: Major references and further lectures
1) Urs Eggli "Illustrated Handbook of Succulent Plants: Dicotyledons" Springer, 2002
2) James Cullen, Sabina G. Knees, H. Suzanne Cubey "The European Garden Flora Flowering Plants: A Manual for the Identification of Plants Cultivated in Europe, Both Out-of-Doors and Under Glass" Cambridge University Press, 11/ago/2011
3) Werner Rauh "The Wonderful World of Succulents: Cultivation and Description of Selected Succulent Plants Other Than Cacti" Smithsonian Institution Press, 1984
4) Hermann Jacobsen "A Handbook of Succulent Plants: Ficus to Zygophyllum" volume 2 Blandford Press, 1960
5) Gordon D. Rowley "Succulent Compositae: A Grower's Guide to the Succulent Species of Senecio und Othonna" Strawberry Press, 1994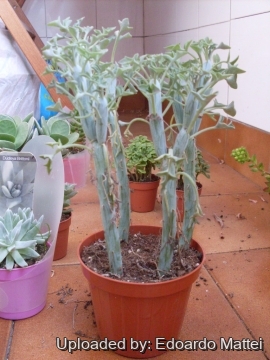 Senecio articulatus
Photo by: Edoardo Mattei
Senecio articulatus
Photo by: Edoardo Mattei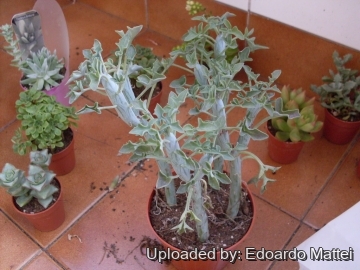 Senecio articulatus
Photo by: Edoardo Mattei
Senecio articulatus
Photo by: Edoardo Mattei
Cultivation and Propagation: Senecio articulatus is probably a winter grower and need water from October, when the new leaves can be seen forming on the growing tip In April the leaves begin to go yellow and drop off, so now it rests quite dry in to summer. But others suggest to water it moderately all year round as it tends to be an opportunistic plant that tend to grow in each time of the year whenever it has enough water in fair weather and rest when temperatures are too hot or too cool and may have several or sometimes no growth cycles in a year. It must be grown very hard in the nursery as close to the natural conditions as possible. This ensures that it keeps its compact habit.
Soil: Give the plant an airy growing medium which mainly consists of non organic material such us clay, pumice, lava grit, and only a little peat or leaf-mould.
Watering needs: It prefers to be on the dry side with good but infrequent waterings. Less water during winter. Avoid very humid conditions as it is an easy-to-rot succulents. No water should ever be allowed to stand around the roots.
Hardiness: Hardy to approx 0 degrees Celsius, it is cultivated in open air in the tropical and warm Mediterranean climate, with temperatures which it is good to keep over the 5°C, best 10-12°C, but can withstand light frost for short periods if very dry, in these situations it will better resist if sheltered by the winter rains, seen that the humidity and low temperatures render it more sensitive to rottenness. Plants in containers however, suffered major leaf loss. USDA Zone 9b to 12.
Exposure: Full sun to filtered light.
Maintenance: The flower stems need to be removed to keep a tidy appearance. This species do tend to get sort of leggy, which is particularly a problem if grown as a potted plant, and yearly trimming back is often necessary. Like quite small pots, repot in very later winter, early spring.
Propagation: It is easy to propagate by cuttings in late spring to summer, just take a cutting of the plant let it dry for 1 or 2 weeks and stuff it in the ground (preferably dry, loose, extremely well draining soil).